27/Jul/2019
2019 Show Programme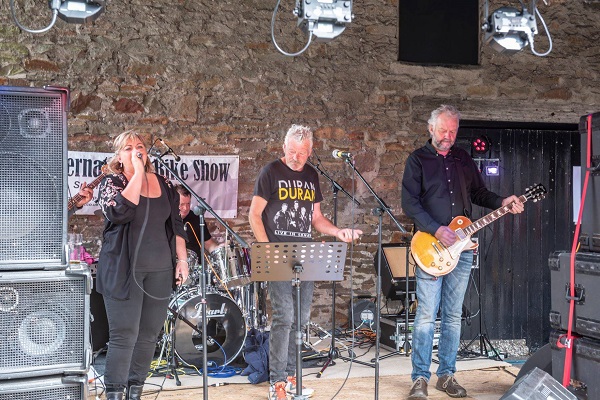 Saturday 21st September
10:55AM Show opening - Intro/Welcome
11:00AM White Noise – Classic rock & blues covers played by four guys in their 50's having lots of fun.
12:30PM The Cider house rounder's – Traditional American Old Time dance music from the Appalachian region of South-West Virginia. A cultural fusion of traditional English, Scots and Irish folk tunes and African-American rhythm.
1:30PM CHSW - a short Summary on the Charity.
2:00PM Chris Waite – A musician with many years' experience who faithfully reproduces classics from the 70's & 80's. His enthusiasm for this music comes through in his performance.
3:00PM Phil IBA - Leaves on guess the mileage ride.
3:30PM Mulberry Junction – A four piece band from Nailsea playing a mix of classic covers and original music.
4:30PM Charity Auction
5:00PM Going Nowhere – Versatile classic rock covers band.
6:30PM The Road Trip – Talented Duo who perform classic hits from all era's.
8:00PM Corvus – Classic rock covers band, with some added modern pop and a few other twist and turns to add a bit of funky spice.
9:30PM The Cringe – Classic Rock focusing on the music of Led Zeppelin and other Seventies trail blazers.
Sunday 22nd September
11:55AM Show opening – Intro/Welcome
12:00AM Four and a Half Shades – Bristol based covers band with a vintage twist. From motown and musicals to rock and jazz, They play everything to make your event stand a shade apart!
1:00PM CHSW - a short Summary on the Charity.
1:30PM Drifftwood - Five piece Bath-based rock and blues band playing classic 50s/60s/70s covers with lots of foot tapping energy and style.
3:00PM Phil IBA – Returns from guess mileage ride.
3:00PM Chiaroscuro– Progressive rock/metal from the badlands of Bristol. Guitar solos, odd time signatures and long songs.
3:45PM Awards Raffle etc.
4:30PM Caught on the back foot - An extremely versatile and talented covers band who play a massive range of music of all genres, from Iron Maiden to Stevie Wonder with a bit of Oasis for good measure. Truly a band for all occasion's pub's, clubs or private functions.
6:00PM Show closes :(